I've been watching a lot of Doctor Who
lately, which I think is effecting my brain. This latest image, Steampunk Princess, started out originally having a face like an Ood
(or perhaps like Cthulhu). But after some careful consideration and some work with the eraser tool, her face tentacles were surgically removed to leave this pretty – albeit cheeky and mechievious looking – steampunk-esque lady.
This was a fun process, and allowed me to work in a kind of comic book inking style of colouring. I found that I really enjoy the style not only for it's simplicity, but also for the cool effect it gives when it comes to lighting.
The other thing I quite dug about this design was the inclusion of the little ribbon under her image, making it easy for people to customise the text, or to simply leave it blank. I'm hoping people will personalise it with lots of weird and wonderful steampunkery.
Click the image below to see all of products available in the in the Steampunk Princess range.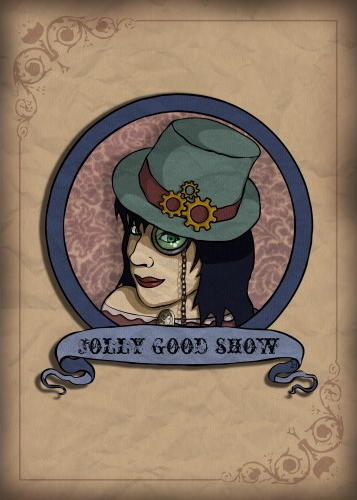 A dark haired woman with deep red lipstick in a steampunk style cosplay outfit. Her green top hat features a red band and cogs embellishment. She wears a dusky pink off the shoulder shirt with a cameo brooch and a silver monocle with a chain. Behind her, a soft pink damask style wallpaper. Her image is encircled with a blue frame and a customisable ribbon banner at the bottom for text of your choice. The background features a crumpled old paper or parchment texture, decorated in a victorian style.
---

This work is licensed under a Creative Commons Attribution-NonCommercial-NoDerivs 3.0 Unported License.
*You may share the work, but you must attribute this work to me and link to the product/post, and/or to my blog Lee Lee and the Bee
*You MAY NOT use this work for ANY commercial purposes excluding earning affiliate commissions (where applicable) through linking back to a product offered on selected websites with affiliate programs.
*You MAY NOT alter, transform or build upon any part of this work, unless customizing a product prior to purchase on any of the websites where this design/work is offered for sale.
*To contact the artist regarding purchasing exclusive rights to this image/design, or for more information, please use the contact form at my blog Lee Lee and the Bee
---