About a week ago, my oldest and dearest friend, Beth, got in contact with me and told me that her husband was interested in getting me to put forward some ideas for a CD cover for his band, ATE. The design brief was 'think industrial decay and holiday resort'.
After some hours of sketching, I ended up with a rough but quite interesting piece. The band is currently undecided about what image they will use, but I decided to use the sketch on range of products anyway, just because I really liked it. The binder actually won a 'Today's Best Award' as well, which is always a lovely surprise.
Click the image below to see the full range of 'Holiday' products at Lee Lee and the Bee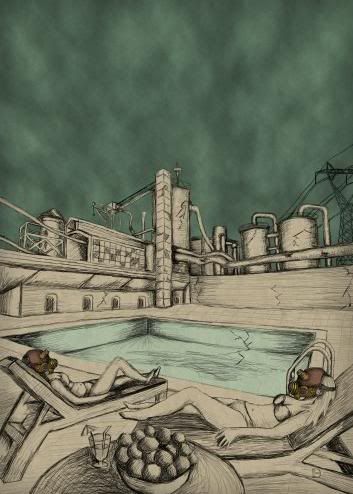 A sketch of two women in bathing suits and gas masks sunbathing on deck chairs. Beside them is a table with a bowl of fruit and a cocktail on it. They lie next to an empty swimming pool which is set in a landscape of a decaying industrial factory. Only the slightly stormy sky, the empty pool and the gas masks in the image are coloured. The sketch is done on a parchment paper style textured background.