My husband really dislikes hipsters. Especially their fashion sense. It angries up his blood.
If he is on the way home from a long day of finding treasure as a field archaeologist, and he sees a hipster, you can bet that I'll get a text message about it. This text will explain just how horrible said hipster is and the varying degrees in which seeing them has ruined an otherwise peaceful and uneventful train journey.
So I decided to try and make him smile a bit with this lovely character. It worked. He looked at it and said "Yep, that's about how stupid all hipsters look" and walked away chuckling.
For me, that's a glowing review! It didn't hurt either that after uploading the range at my zazzle store, I recieved a 'Today's Best Award' for the postcard version of it.
Click the image below to see the full range of "So Hip" products available at Lee Lee and the Bee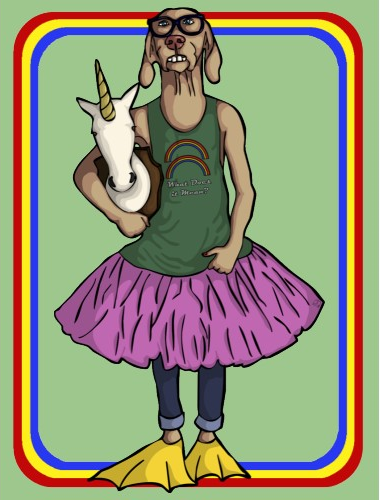 A part-man part-dog hipster. His green singlet like shirt features a double rainbow and the words "What does it mean?". Over the top of his turned up stovepipe blue jeans, he has a pink tutu like skirt. Under one arm is the mounted head of a white unicorn. He also has on a pair of yellow diving flippers and a pair of thick rimmed glasses. The background features a simple red green and blue retro style rainbow design.
This morning, when I woke up, I also had a lovely email from a customer asking if it was posible to buy the shirt he is wearing. I hadn't even thought of doing that. His shirt was just a silly little homage to the hungrybear9562 Double Rainbow video. But since I was asked so nicely:
Click any of the images above for a better view or to make a purchase.