Since creating my "So Hip" design last week, I decided that I really like the weirdness of combining animal heads with human bodies. So my latest, "Shrunken Head Dilemma",  is a new member of what I am coming to think of as my 'absurd herd'.
She's a lovely tarsier-headed 50's housewife holding a shrunken head.
Bet you never thought you would see that sentence in print.
The whole idea of her made me giggle. My husband on the other hand looked at me like I was quite insane. His reaction:
"Speaking as an old Call of Cthulhu player, if I actually saw that thing walk down the street I´d kill it, burn it and dissolve the ashes in acid. And then stomp on the bits."
Well thats not a very nice thing to say about a lady!
Click on any of the images below to see the full range of "Shrunken Head Dilemma" products available at Lee Lee and the Bee.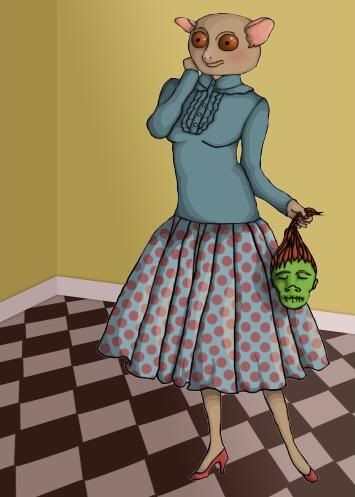 A lovely lady – part human, part tarsier – wearing a classic fifties housewife outfit of blue skirt with pink polka dots and a blue fitted top with a buttoned ruffle embellishment on the chest. On her feet, a pair of soft red high heal shoes and her fingers feature a matching nail polish. In one hand she holds a green shrunken head by it's red hair, and on her face a slightly troubled look, as she deliberates over where to display her new found treasure.
The character image/s and the background image of a coffee coloured chequered floor and yellow walls, are two separate elements and so can be deleted or changed with ease. Feel free to personalise the design using the 'CUSTOMIZE IT' tool.