I decided it was time for some love and kisses the other day and so I got to designing some wedding products.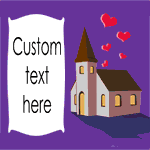 Cartoon Church is a simple design featuring a cute little chaple and steeple with red love hearts floating up from it. The design has a dark faded border and a pillow shaped space for adding customized texts. Because of the way it is designed, you can also customize the background colours to lend the product a whole new look, or to fit it to the colour scheme for your big day. The little gif to the right here, gives you a very basic idea how some different background colour schemes might work. To change the background colour, simply click 'Customize it' on the product page, and use the 'edit' tool to personalize the design!
Click the image below to see the full range of 'Cartoon Church' products available at Lee Lee and the Bee.