I think anyone who has visited Lee Lee and the Bee knows I have a thing for zombies. And not just any zombies. Zombies doing weird stuff. Like riding segways or popping wheelies on penny farthings.
This time around, it's Zombies riding space hoppers.
That's right bouncing hordes of the undead.
The idea came to me when I was sitting on my fitness ball one morning and giggling over yet another dream I had about zombies. Zombies + fitness ball = zombies on space hoppers, apparently.
So here they are in all their glory! Bouncing Zombies!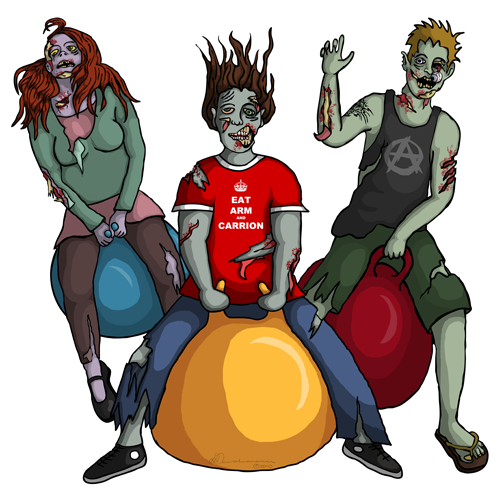 Click on the image above to see the full range of 'Bouncing Zombies' products available at Lee Lee and the Bee
The range is extensive. There are products with all three characters on, or you can choose your favourite one of the 3 and just have an item with them on it. Remember, all items are completely customizable, you just need to hit the yellow 'CUSTOMIZE IT' button when you are on a product page and you can easily add your own texts, change background colours or start from scratch. Have fun with it and make it unique!