You know the song. That
irritatingly sweet song by Leslie Gore from 1965
. Well, that got stuck in my head the other day.
But not the whole thing. Nooo. That would be too much to ask.
No, my brain just kept repeating: "Sunshine, Lollipops, and Rainbows…Sunshine, Lollipops, and Rainbows…Sunshine, Lollipops, and Rainbows…."
Over and over and over again.
For hours.
And hours.
I tried the normal tricks of listening to it all the way through (which was torture, let me tell you) and listening to something else entirely. But it just wasn't working. So I tried something new. I sat down and drew it. And because it was repeating over and over, I made it a repeating pattern.
You know what? It worked! It ruddy well worked. But the time I had finished, even my brain was sick of sunshine, lollipops and rainbows. I had peace and quite up there. Well, for at least 10 minutes, then 'The Bed Intruder' song popped in there and I was gone again. Damn you Antoine Dodson!
Anyway, here is what resulted from the Sunshine, Lollipops, and Rainbows escapade. So sickly sweet, you'll get a sugar rush!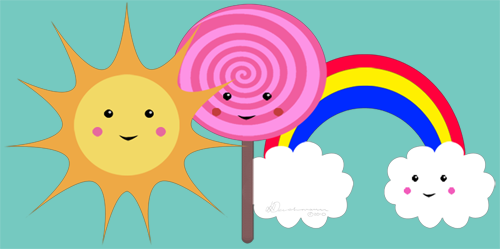 Click on any of the images above to see the full range of "Sun, Lolly, Rainbow" products available at Lee Lee and the Bee

Remember, all the products are completely customizable. You just need to hit the yellow 'CUSTOMIZE IT' button when you reach the product page to add your own text or images, to change the background colours or to start from scratch! Have fun and make it uniquely yours!

---

This work is licensed under a Creative Commons Attribution-NonCommercial-NoDerivs 3.0 Unported License.
*You may share the work, but you must attribute this work to me and link to the product/post, and/or to my blog Lee Lee and the Bee
*You MAY NOT use this work for ANY commercial purposes excluding earning affiliate commissions (where applicable) through linking back to a product offered on selected websites with affiliate programs.
*You MAY NOT alter, transform or build upon any part of this work, unless customizing a product prior to purchase on any of the websites where this design/work is offered for sale.
*To contact the artist regarding purchasing exclusive rights to this image/design, or for more information, please use the contact form at my blog Lee Lee and the Bee
---