This design started out as a non-christmas piece, but I abandoned it a few months ago to work on something else and then promptly forgot about it.
I do that. I have a brain like a sieve.
Anyway, I was thinking about christmas again, and for some reason, I remembered it, and figured that I could christmas it up a little. Which I did. Santa hat – Check; Pretty dress in christmas colours – Check; Cheesy christmas slogan of goodwill – Check. I think she's captured the christmas spirit nicely. 
The cheeky look on this characters face suggests that she might be on the 'naughty list', but I quite like that. It's almost as of she's doing the whole 'peace on earth' thing to attone for something heinous in order to actually recieve gifts this year. I dunno, she'd probably get gifts anyway. I mean look at the size of her! She's huge! Bigger than the whole planet! She'd recieve offerings to appease her in the hope that she wont squash us all with her massive peace sign!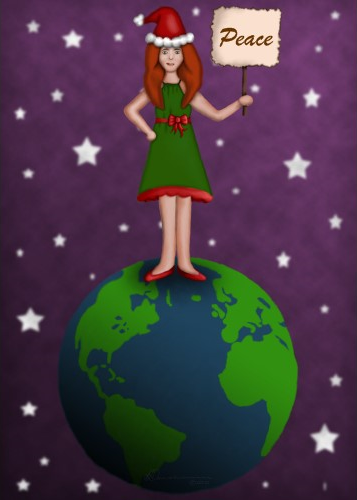 Click on the image above to see the full range of 'Peace on Earth' products available at Lee Lee and the Bee.
The range is completely customizeable, so if you would like to add texts or your own pictures, feel free to do so by clicking on the 'CUSTOMIZE IT' button on each of the product pages.
This is the first range I have created that includes the brand new Iphone and Ipad cases available now at Zazzle.com . They pretty spiffy if I do say so myself. Hopefully as time goes by, I will be able to add these products to my existing ranges as well, so keep an eye out for new ones being added to the store every day. In the meantime, the images below will link you to each of the products so that you can have a ruddy good look-see.