When I was young, my favourite story in the whole world was "The Secret Garden" by Frances Hodgson Burnett. It's still high on my list of all time favourite novels, and I have probably read it 10 times or more. Even as a child, I loved the joy it imparted at the simple pleasure of being outdoors and the idea that becoming familiar with nature helped one grow as a person.
Recently, the urge to revisit the story overcame me, and I needed – yes, 'needed' – to read it again. Unfortunately, my copy of the book is way back in my homeland of Australia (somewhere in my grandfathers house I think) and I was hit by this sudden urge to read the book, with no immediate way to fulfill it. Then I came across librivox.org and discovered that 'The Secret Garden' (along with thousands of other public domain classic novels, short stories and journals) is available as a downloadable audio book read by some lovely volunteers. Oh Bliss! It didn't take me long to listen to the whole story all over again and revel in it's awesomeness once again.
Afterwards, I knew I wanted to create an image inspired by the story, and I knew the exact moment I wanted it to be – when the Robin helps Mary find the key to the garden. I remember the first time I read that part as a child and thinking to myself how magical it was and wanting a clever little Robin friend of my own. (Now that I am a grown woman, I realise how silly that idea is, of course – It's obvious it would way cooler to have a murder of trained crows instead!)
And so, this image was born. While making it, I also learnt some wonderful new techniques in photoshop and experimented with new ways of designing the products available for sale at Lee Lee and the Bee, so the whole experience became a fun little personal growth excercise!
As usual, the design is available on a huge variety of products, and all of them are completely customizable, just hit the 'CUSTOMIZE IT' button on a product page and go crazy with the personalisation.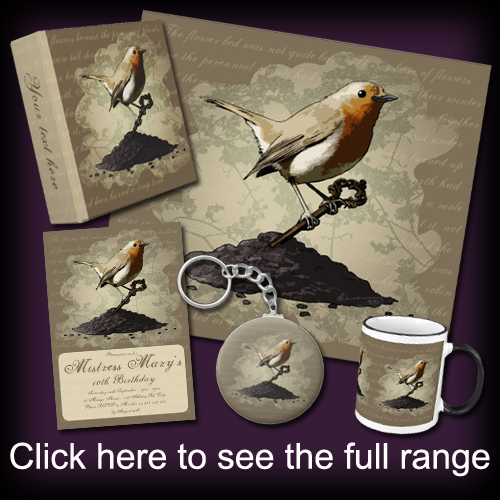 *You may share the work, but you must attribute this work to me and link to my products or to my webshop Lee Lee and the Bee
*You may not use this work for any commercial purposes other than to earn affiliate commissions through Zazzle by linking to my products or to my webshop Lee Lee and the Bee.
*You may not alter, transform or build upon any part of this work.