My latest obsession is crochet. I love it and keep harping on about how awesome it is.
Because of this, I recently started thinking about trying to come up with some fun and simple designs that celebrate crochet, and I guess, yarn arts in general. This is the first of those designs, 'Crochet or Die.'
It is a simple cartoon skull with yarn for eyes and a crochet hook in it's mouth. The yarn drapes down to read 'crochet or die'. I gave the image a distressed texture to it to give it a bit of a grungy feel and made it so that one could
change the background colour
of any of the products to suit individual tastes.
Click on any of the images below to see the entire "Crochet or Die" range.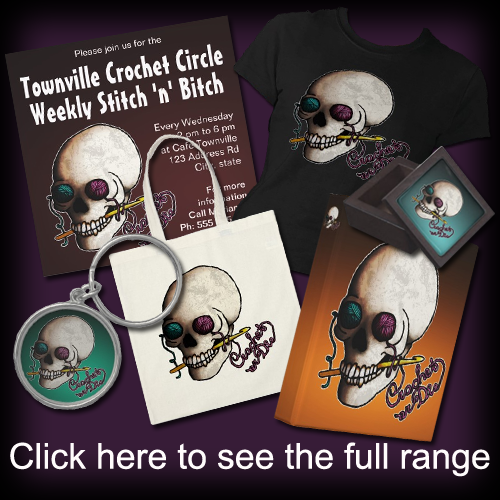 This work is licensed under a Creative Commons Attribution-NonCommercial-NoDerivs 3.0 Unported License.
*You may share the work, but you must attribute this work to me and link to the product, or to my webshop Lee Lee and the Bee
*You may not use this work for any commercial purposes other than to earn affiliate commissions through Zazzle by linking back to the work or to my webshop Lee Lee and the Bee.
*You may not alter, transform or build upon any part of this work, unless using the zazzle 'customize it' function in order to personalise a product prior to purchase.