Yet another crochet inspired design, following closely on the heels of my recent 'Crochet or Die' design.
This one is a just goofy tongue in cheek slogan: 'I crochet so that I don't kill people' with a cartoon crochet hook. Very silly I know, but as most crafty people would know, making things is often a great way to 'wind down' after dealing with the stresses of modern life. And those stresses are often induced by other people, so I thought this would be a fun idea.
I tried to give the words a 'crocheted' texture and make them stand out a little so that it kind of 'pops' off whatever product it is placed on. Again, I have made this design a 'floating' image' so that folks can change the background colour to whatever they like so as to make it suit their own tastes.
Click on any of the images below to see the entire "'I Crochet'" range.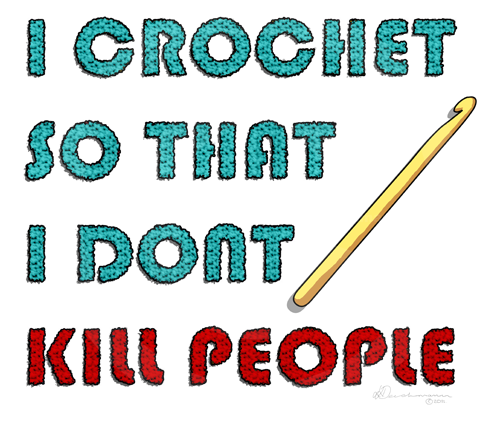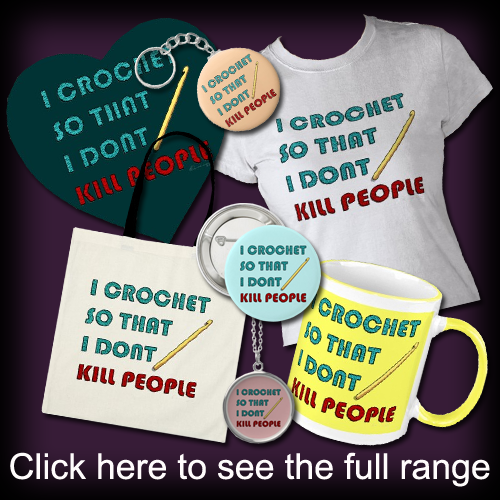 This work is licensed under a Creative Commons Attribution-NonCommercial-NoDerivs 3.0 Unported License.
*You may share the work, but you must attribute this work to me and link to the product, or to my webshop Lee Lee and the Bee
*You may not use this work for any commercial purposes other than to earn affiliate commissions through Zazzle by linking back to the work or to my webshop Lee Lee and the Bee.
*You may not alter, transform or build upon any part of this work, unless using the zazzle 'customize it' function in order to personalise a product prior to purchase.