So my husband said to me a little while ago (in that sweet 'please-dont-take-this-the-wrong-way' kind of voice that husbands across the world have when delivering 'constructive feedback' to wives) that he felt that all of my crazy monsters, zombies and odd animal-headed people really didn't seem to fit in with some of the rest of my works at
Lee Lee and the Bee
.
I of course 'took-it-the-wrong-way' on principle, and proceeded to flounce off in a fit of diva-rage.
Well, not really. What I did do is have a good hard think about what he had said and came to the conclusion that he was a bit right. Not totally, because husbands are contractually obliged to allow wives to always be right (even if only 2% right, which this time around, was my total percentage of 'rightness').
So we both brainstormed some names for a store name and came up with…….*drumroll please….

So the new store, 'Here Bee Monsters' is now up and running and I am slowly going to start propagating it with new designs and old.
The first (and as of writing this, the only) design in store is actually one of the first monster characters that I took a hand to designing. He is the 'Alien Rock Pod '. Which is basically a happy blob with tentacles sitting on a rock. You know….the usual.
I've tried to make a fairly complete range in store so hopefully, there will be something for everyone. Everyone that is, who enjoys happy blobs with tentacles sitting on rocks.
Click on any of the images below to see the entire "Alien Rock Pod" range.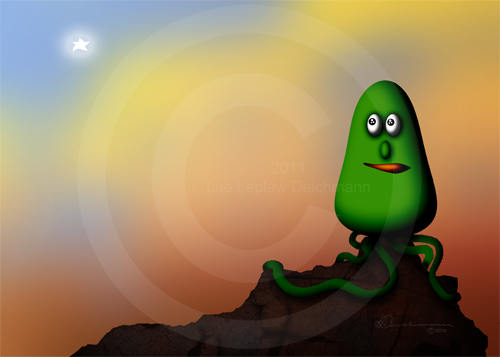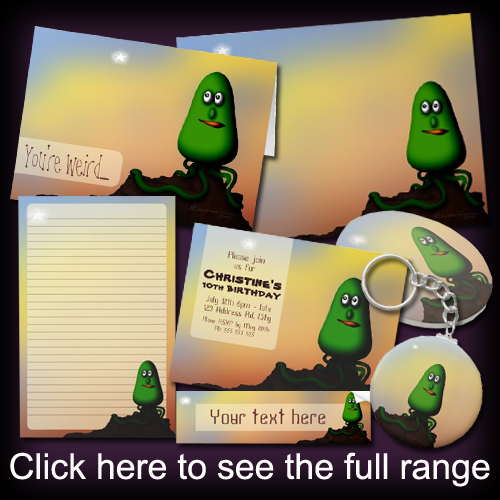 This work is licensed under a Creative Commons Attribution-NonCommercial-NoDerivs 3.0 Unported License.
*You may share the work, but you must attribute this work to me and link to the product, or to my webshop Here Bee Monsters
*You may not use this work for any commercial purposes other than to earn affiliate commissions through Zazzle by linking back to the work or to my webshop Here Bee Monsters.
*You may not alter, transform or build upon any part of this work, unless using the zazzle 'customize it' function in order to personalise a product prior to purchase.