I looked out the window the other day and the grounds-keeper for our apartment complex was putting up Christmas lights around the courtyard. This came as a shock to me for a couple of reasons.
First, as a work-from-home type, with all the mod-cons at my fingertips, I generally don't pay much attention to what's happening around the place, so I really didn't realise it was that time again. I know, I should be a bit more alert of the world but look…..INTERNET! GRAPHICS TAB! SHINY THINGS THAT GO BOOP AND PING! Not really an excuse I know. More of an explanation. A really lame explanation.
And second, it crept up on me without warning! Christmas is a sneak I tell you! Why only yesterday it was summer and we were doing fancy summer things! Now look. Grey, and cold and getting darker everyday!
I really do believe it happens faster every year you know. I remember grown-ups saying that when I was a kid, and I would look at them like they were berko in the coconut. For me, the time each year went by sooooo slowly. Even slower for me perhaps than most kids cause my birthday is only a week after Christmas, and most of the time my Christmas and birthday presents were bundled into one big mass of awesome on Christmas day. I would therefore usually get one super-amazing-day-of-gifts-and-win per year and then have 365 days to wait for the next one.
So when I saw those Christmas lights going up the other day I had a bit of a flashback to the 'SQUEEEE-PRESENTS!" Lee Lee of yesteryear.
Then grown-up "Get some work done, you lazy bones" Lee Lee smacked me in the chops and I realised that I should get some new Christmas designs out into the world. So I sat down with a sketchbook and a pencil and had a grand old time coming up with some fun bits and bobs for the silly season.
And these little fellas are the first guys to jump off that sketchbook page.
'Three Wise Elves' features three old and wise looking elves standing in the snow wearing Christmas patterned cloaks and tall, red winter hats, their long white beards almost touching the snowy ground. I've based them on traditional Scandinavian Nisse or Tomte, who are a very common decoration at Christmas time here in the Nordic Countries. It wasn't until well after I had started to add the products to the stores that I noticed how much they look like little yuletide gnome versions of ZZ Top. This realisation of course made me giggle like a mad woman. I mean just look at them. It's like the guitars are just gonna start up any second now.
Regular visitors may notice that there are a lot more places now where one can start getting hold of products with my designs on. Wouldn't you know, I've just gone and branched out and all. I'd had a few customers and friends express an interest in getting my stuff through some of these other places, so to add to the already hectic workload I am giving myself over the holiday season, I'll also be trying to update all these new sites and shops as well. Stay tuned for more updates as time goes by!
For now though, feel free to peruse what's available in the 'Three Wise Elves' ranges using the links below. And don't forget, if you like my work, feel free to share away across the internets!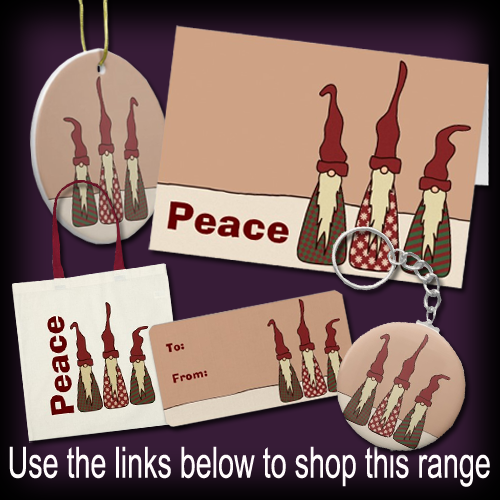 This work is licensed under a Creative Commons Attribution-NonCommercial-NoDerivs 3.0 Unported License.
*You may share the work, but you must attribute this work to me and link to the product/post, and/or to my blog Lee Lee and the Bee
*You MAY NOT use this work for ANY commercial purposes excluding earning affiliate commissions (where aplicable) through linking back to a product offered on selected websites with affliate programs.
*You MAY NOT alter, transform or build upon any part of this work, unless customizing a product prior to purchase on any of the websites where this design/work is offered for sale.
*To contact the artist regarding purchasing exclusive rights to this image/design, or for more information, please use the contact form at my blog Lee Lee and the Bee