I know what you're thinking. What the heck have lobsters got to do with christmas? Well, let me just tell you this about lobsters and christmas……
Actually…..I cant really remember why I thought it would be a good combination. I originally made this little fella back in 2009 when I began playing around with selling my designs online for the first time. In fact , I think he may have been my first ever attempt at something 'christmasy'. I'm sure, at the time, I had a good reason for pairing a lobster with a candy cane and santa hat, but for the life of me, that reason has escaped me. I do however still find the play on words (Lobster claws + Santa Claus = Lobster Claus) pretty freaking amusing.
But then I'm daft like that.
Anyway, this happy little lobster is perfect for your wacky friends, for seafood restaurants to send out as seasons greetings, for fishermen and divers, for marine biologists, for kooky kids, and basically for anyone who yearns for a zany christmas.
Click on any of the various store links below to see what is available in the "Lobster Claus" range.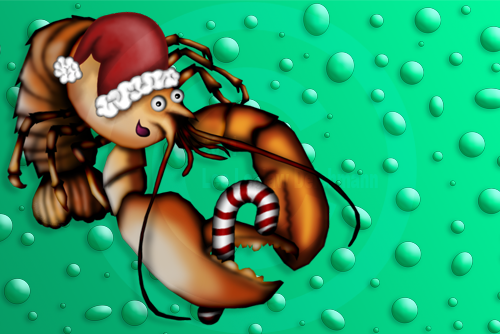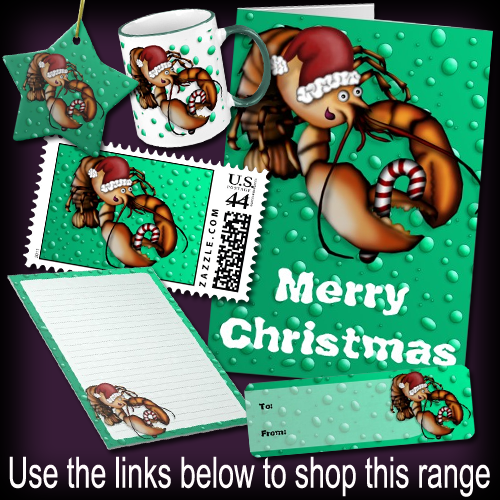 This work is licensed under a Creative Commons Attribution-NonCommercial-NoDerivs 3.0 Unported License.
*You may share the work, but you must attribute this work to me and link to the product/post, and/or to my blog Lee Lee and the Bee
*You MAY NOT use this work for ANY commercial purposes excluding earning affiliate commissions (where aplicable) through linking back to a product offered on selected websites with affliate programs.
*You MAY NOT alter, transform or build upon any part of this work, unless customizing a product prior to purchase on any of the websites where this design/work is offered for sale.
*To contact the artist regarding purchasing exclusive rights to this image/design, or for more information, please use the contact form at my blog Lee Lee and the Bee