I saw some toddlers the other day, all out for a walk with their pre-school teachers. These kids, who were probably 5 or 6 years old maximum, were all rugged up against the cold in the most fun coloured jumpsuits, jackets, hats and scarves. As they noisily bustled and rustled past me, one of them particularly caught my eye. She was decked out like a little Christmas ornament, all in red and green and with a grubby, well-loved Santa hat shoved jauntily on her head. She was obviously well liked and happy too, as a couple of her friends were holding her hands and as the three of them walked along they were singing some little song which made no sense to me at the time, but was so pretty.
This amount of adorable was too much to bear. I just had to come home, and after putting my shopping away, create something to illustrate just how cute these girls were in their big foompy padded winter jumpsuits with their rosy cheeks. And so the 'Yule Chorus' range was born.
The design depicts three young girls in an almost 'kokeshi' style wear Christmas patterned cloaks, warm scarves, and Santa and elf hats as they stand in a row singing carols loudly. Now what could be more indicative of the season than excited children singing traditional songs? Nothing…that's what!
Click on any of the various store links below to see what is available in the "Yule Chorus" range.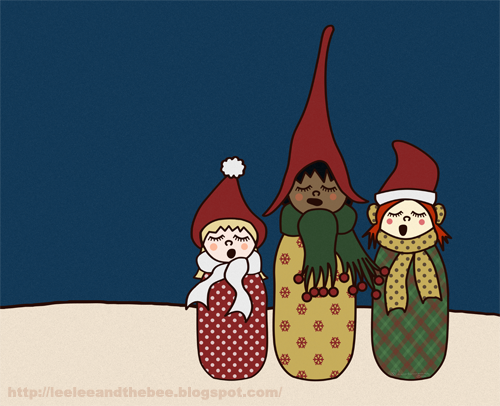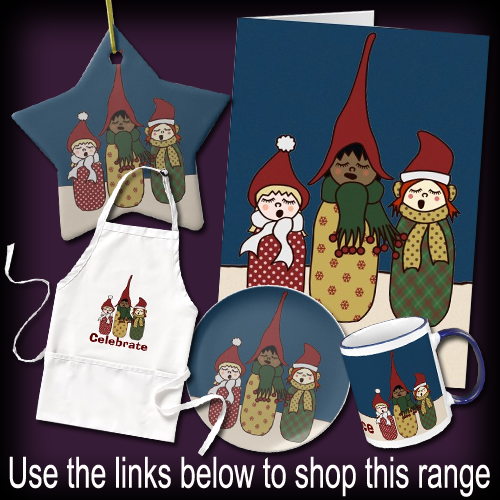 This work is licensed under a Creative Commons Attribution-NonCommercial-NoDerivs 3.0 Unported License.
*You may share the work, but you must attribute this work to me and link to the product/post, and/or to my blog Lee Lee and the Bee
*You MAY NOT use this work for ANY commercial purposes excluding earning affiliate commissions (where aplicable) through linking back to a product offered on selected websites with affliate programs.
*You MAY NOT alter, transform or build upon any part of this work, unless customizing a product prior to purchase on any of the websites where this design/work is offered for sale.
*To contact the artist regarding purchasing exclusive rights to this image/design, or for more information, please use the contact form at my blog Lee Lee and the Bee