Once again I've had a grand old time creating a design specifically for a Spoonflower weekly fabric competition.
This week's theme was "cityscapes" and I just couldn't resist showing off some of my favourite bits of architecture here in old Aarhus, Denmark.
The design, 'Cycling Aarhus' is a simple repeating pattern of these favourite buildings, interspersed with the bicycles that are a permanent fixture of Danish society. The buildings featured include Aarhus Domkirke (The Cathedral), Toldboden (Royal Customs House) and Domhuset (The Courthouse). I'm guessing it would be perfect for curtains and interiors, for lovers of architecture, travellers, your Danish friends, cyclists, and anyone who enjoys simple line designs in pastel colours.
I think voting is open until Thursday, 19th of January 2012, so get in quick to cast your votes. You can vote for as many designs as you like, and be warned, there are some fabulous patterns on display, so you might want to put your drooling bib on.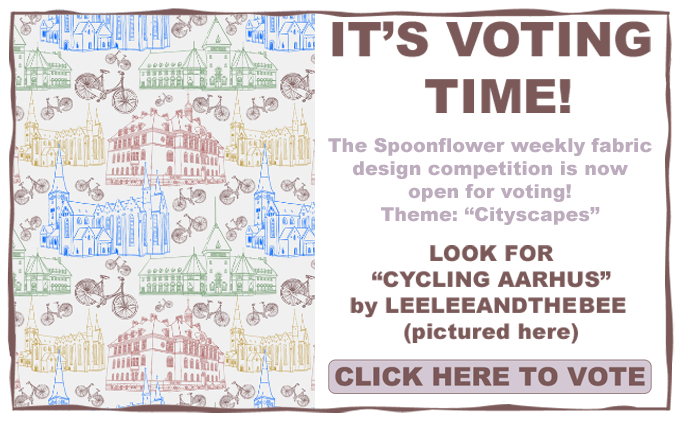 Alternative voting link: http://www.spoonflower.com/contest_voters/new?contest_id=118
This design, and variations of it, is also now available in my webshops including Zazzle, Artflakes, Society6, RedBubble and Skreened. I'm also working on getting it made available on a bunch of products in my CafePress store too, but have not quite finished making all the images required. So stay tuned for more info on that.