A little while ago, in an online artists community I am a part of, someone suggested that we all try our hand at a Bluebird. I cant remember why cause my brain doesn't work well at remembering things sometimes, but it sounded fun.
Now, me being me, I got caught up in doing a bunch of other things and then suddenly realised that I hadn't gotten around to my bluebird picture. So I cheated a bit. Just a bit though. I used an old image (my 'Mister Robin Finds The Key' design in fact) and bluebirded the be-jebus out of it.
Then, again me being me, I took forever to actually post it about the place cause I kept getting side-tracked with shiney things like Pinterest (which is stupidly addictive and I officially love it) and Twitter and setting up a spanking new laptop to work from (which I also officially love).
But now, here it is in all of it's cheaty-pants design glory. 'Little Bird Blue' is available now through most of my online outlets, and hopefully in the future will also be made into a repeating patterned fabric over on Spoonflower as well. So keep eyes open for an update on that one in the future.
Click on any of the various store links below to see what is available in the "Little Bird Blue" range.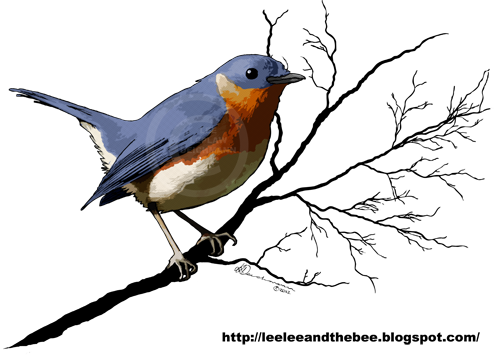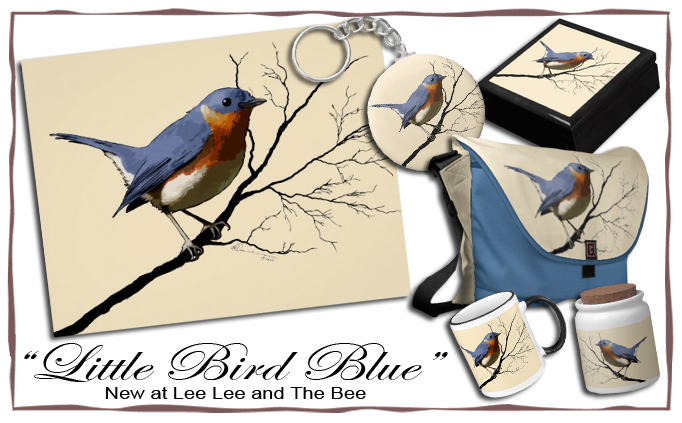 This work is licensed under a Creative Commons Attribution-NonCommercial-NoDerivs 3.0 Unported License.
*You may share the work, but you must attribute this work to me and link to the product/post, and/or to my blog Lee Lee and the Bee
*You MAY NOT use this work for ANY commercial purposes excluding earning affiliate commissions (where aplicable) through linking back to a product offered on selected websites with affliate programs.
*You MAY NOT alter, transform or build upon any part of this work, unless customizing a product prior to purchase on any of the websites where this design/work is offered for sale.
*To contact the artist regarding purchasing exclusive rights to this image/design, or for more information, please use the contact form at my blog Lee Lee and the Bee