So the recent Spoonflower design competition called for people to think about what the new 'owl' would be in the crafting world. Cause anyone who crafts and visits craft sites and blogs, knows that owls are hip. Hip like rich kids pretending to be poor and liking music you've never heard of. Hip like dressing like your dad used to dress in the 80's and making sure everyone knows you're doing it 'ironically'. That's how damn hip owls are. Spoonflower just wanted to take these hipsters down a peg I guess.
I had a bit of a think about what cute animal I'd like to see rendered in crochet, knit, crepe paper, macaroni, macrame, collage and gauche paints, and for some reason I went straight to Tarsiers. Because to me, Tarsiers are way too cute for their own good. Cute and creepy. An excellent combination in my opinion. I mean just look at this guy and try not to giggle/get creeped out:
Shush. He's awesome and you know it.
Now I know that what I find cute is generally standing a long way away from what everyone else finds cute. I kept trying to tell myself that the Tarsier idea should go on the back-burner and I should choose another animal.
But the Tarsiers must be obeyed! I simply couldn't resist the urge. So to try and make them appealing to others, I made them have a party and do cutesy party things. I'm sure given the chance, Tarsiers would party like, well, animals.
So I created 5 little guys to work into a pattern, and to have as a stand-alone design for other bits and bobs. I think they turned out kind of fun. I'm working on getting the design on a bunch of products about the place, and of course will update everyone as to when voting starts on the Spoonflower design competition. For now though, here is a little sample: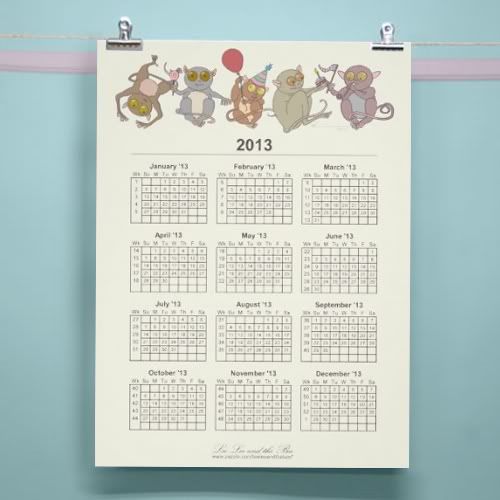 ---

This work is licensed under a Creative Commons Attribution-NonCommercial-NoDerivs 3.0 Unported License.
*You may share the work, but you must attribute this work to me and link to the product/post, and/or to my blog Lee Lee and the Bee
*You MAY NOT use this work for ANY commercial purposes excluding earning affiliate commissions (where aplicable) through linking back to a product offered on selected websites with affliate programs.
*You MAY NOT alter, transform or build upon any part of this work, unless customizing a product prior to purchase on any of the websites where this design/work is offered for sale.
*To contact the artist regarding purchasing exclusive rights to this image/design, or for more information, please use the contact form at my blog Lee Lee and the Bee
---