Category Archives:
Digital Art
This week's theme: Survival.
A few weeks ago, I got a lovely and surprising email from Jes, the Zazzle Community Producer, saying that I had been chosen to be featured on the official Zazzle blog. 
I was of course delighted to be asked and honored to be included amongst some of the other wonderfully talented people who have been previously featured there. I got straight onto answering the interview questions they had for me and lo and behold, just last week, my interview popped up live on the blog. 
I was a bit cuffed about that to say the least.
Below is the interview, quoted in full for my readers, but you can also click here to see it over on the official Zazzle blog.
---
Zazzle Featured Interview with LeeLeeandtheBee

by Jes, Zazzle Community Producer

Lee, from the Zazzle store LeeLeeandtheBee, talks with us about her art and her time as a Zazzler. Check out the interview below and don't forget to check out her store LeeLeeandtheBee!

Bio: My name is Lee Leplaw Deichmann – also known as Lee Lee. I am the artist and designer responsible for the Lee Lee and the Bee network of stores on zazzle . I am an Australian woman, but I live in Denmark with my Danish husband and our mad cat, Kalimah.

I spent many years back in Australia working in retail stores as both a sales assistant and later as a manager, but I always felt that it wasn't really my 'thing'. When I moved to Denmark to marry, I was given the opportunity to re-invent what I wanted to be, career-wise, and so, with the support of my husband, chose to follow a lifelong dream and become an artist.

I am also an avid internet junkie, a crochet nerd, a MASSIVE Doctor Who and sci-fi fan, a social networking geek, a lover of all things steampunk, a vegetarian and a proud ginger.

Zazzle: When and how did you first become interested in art, and how long have you been making it?

Lee: I think I have always created art, well, for as long as I can remember anyway. I always loved drawing and painting as a kid. Luckily it was always something that was encouraged in me and I carried on trying to find time for it in my life as I grew older.

Zazzle: Do you have any fun stories about being a seller on Zazzle?

Lee: I think the interaction with the Zazzle community is always fun and helpful, be it via the Zazzle forums, or through other groups that I am part of on Facebook or other sites (and a big shout out to my 'Zamily' – you guys know who you are!). Most of the people I have met through Zazzle have been helpful, informative and always up for a bit of fun and silliness. It makes me happy to think there are other folks like me out there in the world who love doing this. I love the challenges that the Zazzle community sometimes sets for each other and how everyone strives to be better every day.

Zazzle: What's your favorite Zazzle product to create?

Lee: Anything flat really ,where one can see the whole design, like posters, mousepads etc. It's probably because when I create a piece for Zazzle, I usually start with making the image for 'flat' products first and then tweaking it to work on other types of products later. T-shirt designs are quite fun too.

Zazzle: How would you describe your style?

Lee: Eclectic, colourful, sometimes a little odd. My husband likes to describe it as 'talented but sometimes a little crazy-insane' but I usually prefer to leave out the 'crazy-insane' bit… although sometimes he is probably right. Case in point:

Zazzle: What has been your favorite design you've created, and why?

Lee: Probably 'Holiday'. I was asked by my best friend's husband to create a cover image for the album his band was going to release, and after being given the brief, came up with this design. The band ended up going with another design altogether, but I was really pleased with it and posted it for sale through my main store. I loved the feel of it, and that the original 'sketch' ending up being perfect for the end design and the effect of the overall piece. It was nice to experiment with the textures of it too. I was quite proud of the end result.

Zazzle: What is the first product you ever sold on Zazzle?

Lee: A Christmas design called 'Robin' on a magnet.

Zazzle: How many hours do you typically spend working on your Zazzle store?

Lee: I'm lucky that I have a husband that is happy to support me in my artistic endeavours and so I'm pretty much a full time Zazzle. I try to follow a normal 'working' schedule when it comes to creating art for Zazzle and other projects. I would say that 8 hours of most of my days are dedicated to creating pieces, posting products, marketing and blogging. I am learning to love every part of the process and finding more and more ways to streamline the work I do.

Zazzle: What got you interest in selling your art Zazzle?

Lee: A good friend of mine – the awesome and very talented Mireille Sillander, aka Boogybunny – mentioned to me back in 2009 that she had just joined Zazzle and created a store. She suggested that I also give it a try as it was free and kind of fun. I've been addicted ever since, so she's the one to blame!

Zazzle: What tips can you give someone who is just starting out on Zazzle?

Lee: Be original and find your own voice! Just because everyone else is creating products in a particular style, doesn't mean you have to as well – remember that trends have to start somewhere and you could be that trend starter!

Try and respect the intellectual property and copyright of others and keep the marketplace original and fresh – it not only helps you to stand out from the crowd, but it helps the rest of the Zazzle community as well.

Make sure your images fit the products you are posting, use the guide files Zazzle provides and really showcase your creativity!

Strive to 'be better' with every design. If you feel like your style is becoming stale or you are stuck in a rut, take time out to read some online tutorials, put pencil to paper to just draw, or go out and photograph the world around you. You will be surprised where you find inspiration and how that inspiration can motivate you to build your skill base.

Zazzle:Thanks Lee!
---
When I was young, my favourite story in the whole world was "The Secret Garden" by Frances Hodgson Burnett. It's still high on my list of all time favourite novels, and I have probably read it 10 times or more. Even as a child, I loved the joy it imparted at the simple pleasure of being outdoors and the idea that becoming familiar with nature helped one grow as a person.
Recently, the urge to revisit the story overcame me, and I needed – yes, 'needed' – to read it again. Unfortunately, my copy of the book is way back in my homeland of Australia (somewhere in my grandfathers house I think) and I was hit by this sudden urge to read the book, with no immediate way to fulfill it. Then I came across librivox.org and discovered that 'The Secret Garden' (along with thousands of other public domain classic novels, short stories and journals) is available as a downloadable audio book read by some lovely volunteers. Oh Bliss! It didn't take me long to listen to the whole story all over again and revel in it's awesomeness once again.
Afterwards, I knew I wanted to create an image inspired by the story, and I knew the exact moment I wanted it to be – when the Robin helps Mary find the key to the garden. I remember the first time I read that part as a child and thinking to myself how magical it was and wanting a clever little Robin friend of my own. (Now that I am a grown woman, I realise how silly that idea is, of course – It's obvious it would way cooler to have a murder of trained crows instead!)
And so, this image was born. While making it, I also learnt some wonderful new techniques in photoshop and experimented with new ways of designing the products available for sale at Lee Lee and the Bee, so the whole experience became a fun little personal growth excercise!
As usual, the design is available on a huge variety of products, and all of them are completely customizable, just hit the 'CUSTOMIZE IT' button on a product page and go crazy with the personalisation.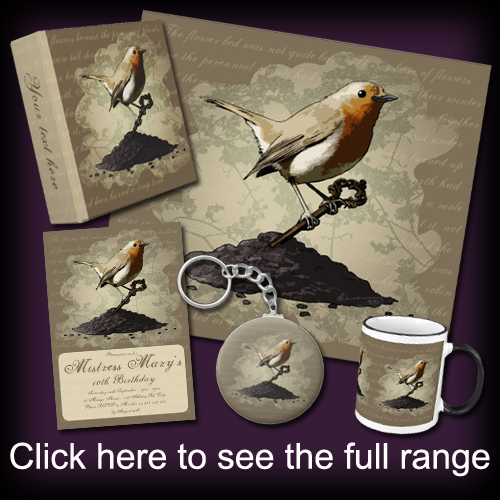 *You may share the work, but you must attribute this work to me and link to my products or to my webshop Lee Lee and the Bee
*You may not use this work for any commercial purposes other than to earn affiliate commissions through Zazzle by linking to my products or to my webshop Lee Lee and the Bee.
*You may not alter, transform or build upon any part of this work.
Hi, been a little busy of late but have recently updated Lee Lee and the Bee with a couple of new designs.
The first is yet another bit of steampunkery called 'Get Along' and features a dog-like beast of burdern wearing a leather gas mask out side of a domed city.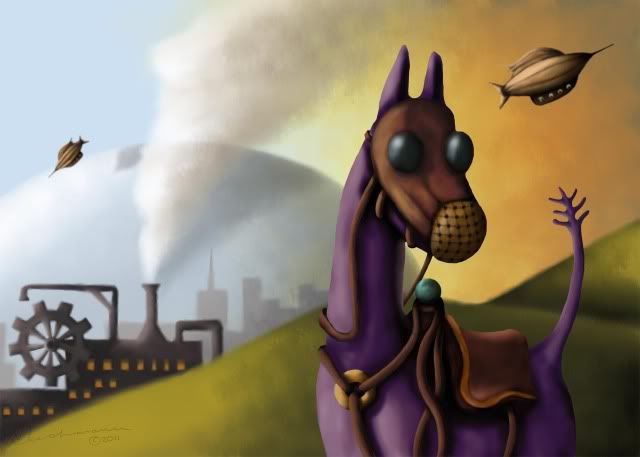 The second was just a silly little idea that popped into my head whilst I was doing the dishes. For some reason the 'hands on', dishwasher-free, simplistic way I was tackling the task made me think of Henry David Thoreau and of 'Walden'. About half an hour later, this resulted:
Remember, clicking on any of the above images or swanky little flash slideshows will take you to the store where you can peruse and shop to your hearts content.
I think anyone who has visited Lee Lee and the Bee knows I have a thing for zombies. And not just any zombies. Zombies doing weird stuff. Like riding segways or popping wheelies on penny farthings.
This time around, it's Zombies riding space hoppers.
That's right bouncing hordes of the undead.
The idea came to me when I was sitting on my fitness ball one morning and giggling over yet another dream I had about zombies. Zombies + fitness ball = zombies on space hoppers, apparently.
So here they are in all their glory! Bouncing Zombies!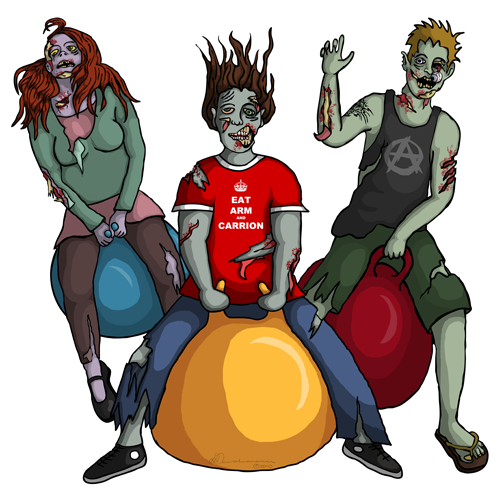 Click on the image above to see the full range of 'Bouncing Zombies' products available at Lee Lee and the Bee
The range is extensive. There are products with all three characters on, or you can choose your favourite one of the 3 and just have an item with them on it. Remember, all items are completely customizable, you just need to hit the yellow 'CUSTOMIZE IT' button when you are on a product page and you can easily add your own texts, change background colours or start from scratch. Have fun with it and make it unique! 
Winter is comming on here in Denmark. They say it's going to be the worst winter in 1000 years. While the thought of experiencing that kind of cold actually has me a little eager (yes, I'm one of those weird people that loves the winter), I stated thinking about the fact that back in my home country, Australia, summer is just beginning.
I was thinking about some of the things I actually miss about Australian summers. Not the heat. Definately not the heat. But the beach and the ocean were definately high on my list. So while all that was going through my head, this is the image that started to form in my brain. A nice quiet place in the summer sun to perhaps sit, enjoy an ice cream and just watch the waves.
Thats what I miss most about summer in Australia.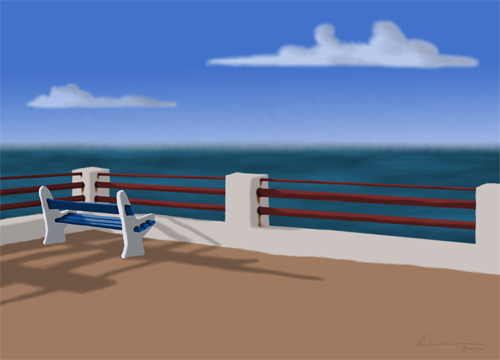 Click on the image above to see the full range of 'Lookout' products available at Lee Lee and the Bee
This weeks Illustration Friday theme is 'Giant'. A topic I knew I already had the perfect image for.
'Goddess in the Forest' was created for the monster drawing game that my friend boogybunny introduced on a forum we both frequent (the rules can be found here). It was a fun piece to make, and I especially loved trying to get the lighting right.
The image was introduced to a range of products at Lee Lee and the Bee back in january 2010, and revisiting it now has made me think about expanding the range a little further…hmmmm….
Anyway, click the image below to see the full 'Goddess in the Forest' range.
I've been as busy as a (…ahem…) bee these past few weeks.
Not least with designing, creating new products and searching for other great art for the 'Best of Zazzle' lists, but also with taking a (very) belated honeymoon journey to Paris with my very lovely husband. After waiting for the trip for 2 years, it was a perfect getaway and I'm sure, at some stage in the future, there will be Paris inspired products available at Lee Lee and the Bee.
I've also become slightly addicted to Spoonflower. This great site makes it possible for individuals to design, print and sell their own fabric designs, and I have been going mad with devising new ways to make some tried and tested LLatB artworks look good as fabric designs. You can see my kasei_lee profile here, and if you like you can vote for my design in the latest spoonflower competition. You can do so by clicking on the 'VOTE FOR DAFFODIL FABRICS' link here, and looking for 'Daffodil Grid' by kasei_lee. You can of course vote for as many designs as you like. Voting closes on Wednesday, March 31 2010 and the winning fabric will be announced the following day, on April 1.
If you like any of the designs you see on my spoonflower profile, and would like to see them on other products, scroll down to the comments section on the design pages to find a link to it in my zazzle store.
The latest ranges available at LLatB are a varied mix. I will post here a link to each of the new ranges. If you like a design, simply click on one of the images below to view the range instore, or to make a purchase.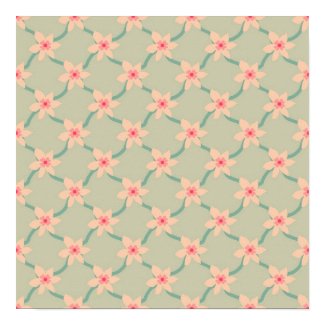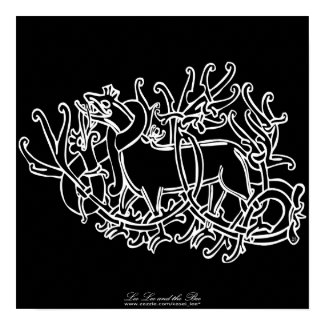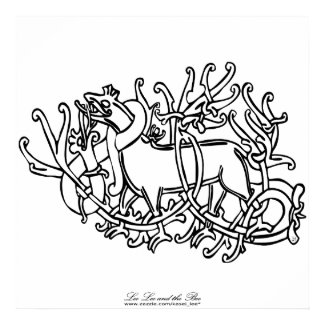 Remember, if you like my designs, but can't see what you are looking for, you can send me a message via my store or an email to lee.leplaw@gmail.com. I am always open to commissions and to working with you to create something unique.
My latest design at 'Lee Lee and the Bee' is another tribute to my love of all things steampunk! A Hardcore Steampunk skull, crossbones and batwing motif in riveted copper and blue leather.
Click on any of the product thumbnails below for a better view, or to make a purchase.
Steampunk Wedding
It has probably become blindingly obvious to anyone that follows my ramblings and work, that I love all things steampunk. Recently, I was thinking about how much fun a steampunk wedding would be, and thought 'Where would a steampunk wedding be, without invitations?'
And so I got to work on the following design:
Click on any design image below for a better view, or to make a purchase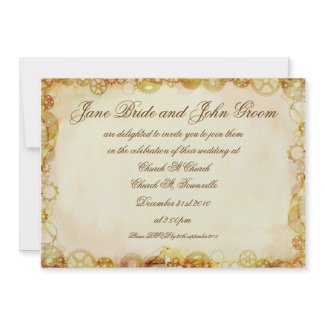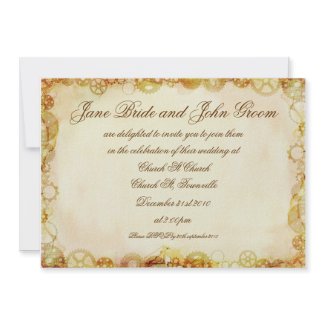 Love Birds
Love Birds is a very simple design, ispired by a glance out the window one morning as the sun was rising. Two birds sit in a tree silouhetted against a beautiful morning sky, as one bird tweets his love to the other.
A perfect wedding range for nature lovers or bird lovers.